Black Bread - a gluten-free alternative inspired by my love for Russian rye bread.
This black bread recipe is inspired by my love for Russian rye bread. Hence the caraway seeds! There are many health benefits to this black bread due to the ingredient choices. Overall it is really a high fiber bread! And will get your digestive system super happy.
Health Benefits Of Buckwheat
Buckwheat has nothing to do with wheat even though it's a part of it's name. In fact, it doesn't even belongs to a cereal family. And because of this it's gluten-free. It also has lower glycemic index than most regular grains. And therefore does not spike the blood sugar like wheat and other cereal grains. It contains rutin which is a bioflavonoid that protects blood vessels.And for that reason improves circulation to hands and feet. It's a good source of magnesium and manganese. And surprisingly, it contains complete protein with all essential amino acids.
Health Benefits Of Psyllium seed husks
They are the special ingredient that helps hold this bread together. Psyllium seed husks as well as flaxseeds contain both soluble and insoluble fiber. Here are some benefits of soluble fiber:
Soluble fiber is an excellent food source for trillions of friendly bacteria in our colon.
When combined with water it swells and results in a mucilaginous coating that is very soothing for the digestive tract.
It helps regulate levels of glucose and cholesterol in the blood.
Insoluble fiber is also a bulking agent, which means that it speeds up transit time through our digestive tract and shortens our exposure to toxins during elimination.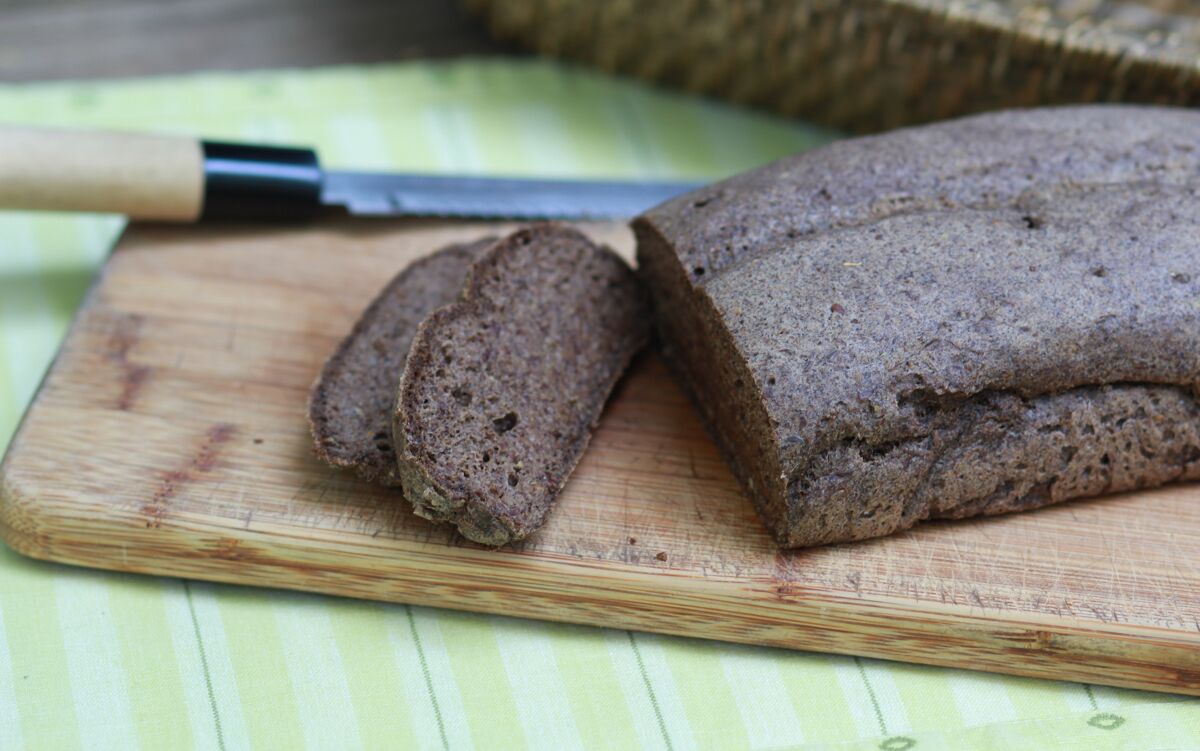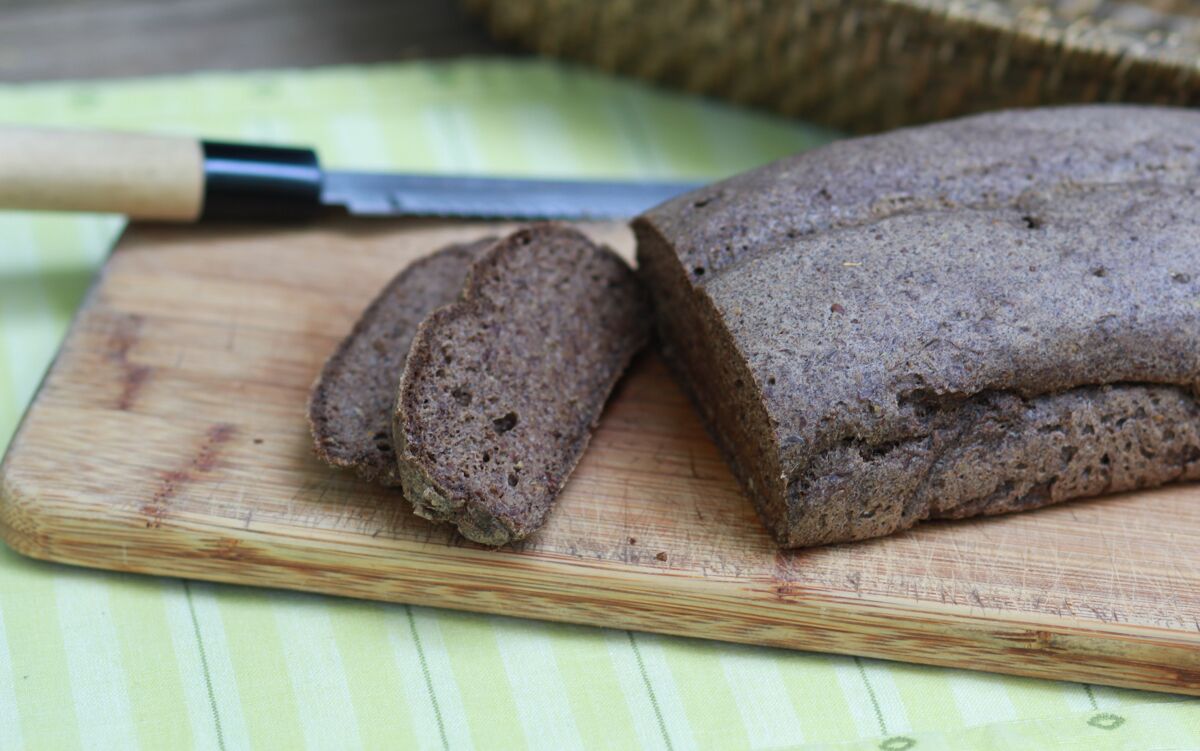 Black bread - a gluten-free alternative
1 cup flaxseed meal
1½ cup water
1½ cup buckwheat
¼ cup psyllium husk
1 tsp salt
½ tsp baking soda
1 tsp apple cider vinegar
¼ cup olive oil
1 Tbsp caraway seeds
Combine flaxseeds and water together, mix well and let sit for a couple of minutes until the mixture gels.
In a food processor pulse together buckwheat flour, psullium husk and salt.
Add the flaxseed/water mixture and oil to the food processor
Place baking soda into a tablespoon and add vinegar to it, mixing well to make sure all of the soda gets wet. The mixture will bubble intensely. Mixing baking soda with the vinegar brings more air to the dough and eliminates the taste of baking soda in the bread.
Add to the food processor and blend.
When the dough becomes sticky scrape off the side bits and pieces that didn't get incorporated, add caraway seeds and pulse together for a bit more.
Preheat the oven to 350F.
Place the dough into a metal loaf pan lined with parchment paper. Flatten with a spatula and cut a straight line in the middle of the loaf.
Place the loaf pan in the middle of the oven and bake for 40 minutes. Take the pan out of the oven, take the loaf out of the pan and put back in the oven on the rack for another hour.
Let cool before slicing. Goes great with Chicken Liver Pate.